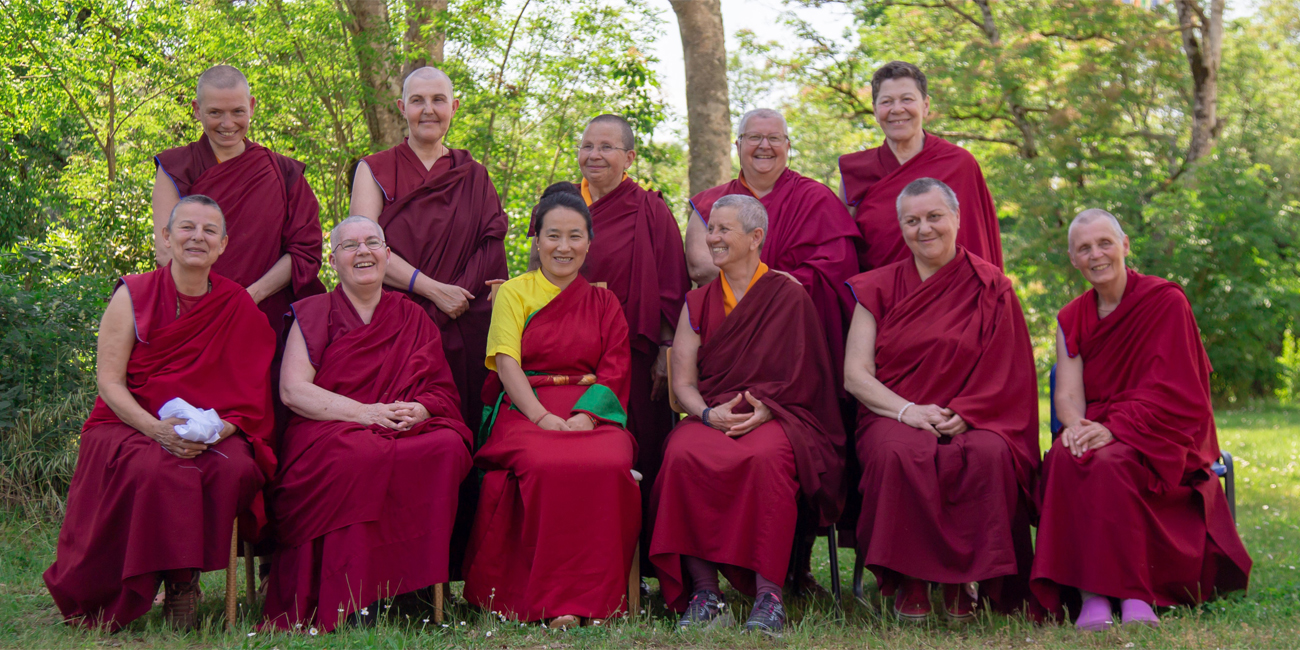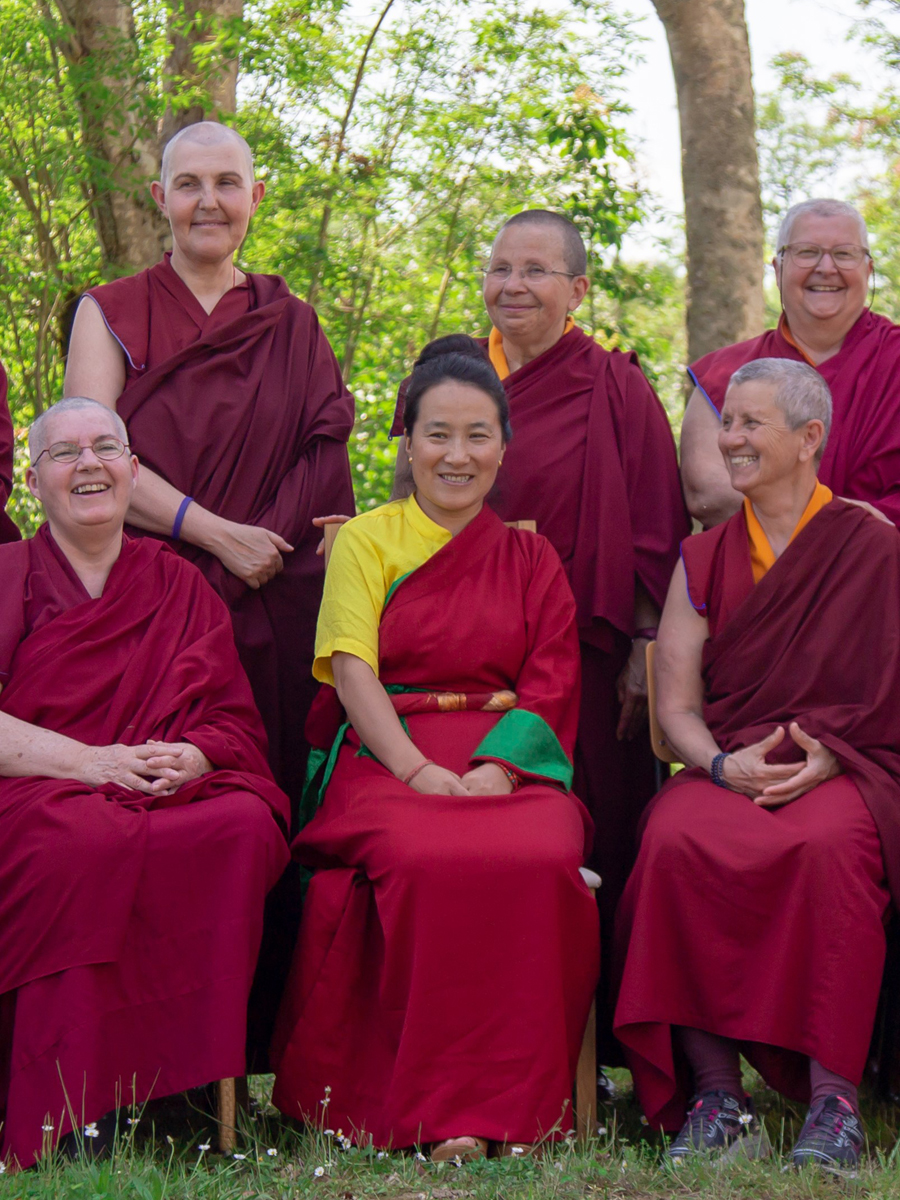 DORJE PAMO NUNS' COMMUNITY
Who are we?
We are a budding community of Buddhist nuns in the Gelug tradition, situated in the small town of Lavaur, in Southwest France, northeast of Toulouse. The first resident nuns, Venerable Chantal Dekyi, coordinator of the project and Venerable Losang Dekyi, a Spanish student of Nalanda, as well as Peggy van der Hoogen, a Deutch postulant, have taken residence in autumn 2018.
Nearby is Vajra Yogini Institute, an FPMT Buddhist Centre, and Nalanda Monastery, an FPMT community for monks.
We are part of an international community of Western FPMT monks and nuns known as the International Mahayana Institute (IMI), which has more than 300 monastics, and among them 180 nuns, of which approximately 60 are Europeans. But there are still no monastic communities for nuns, at this time, in Western Europe.
Given the circumstances, the idea of finding places to establish monastic communities for nuns has been around for years'.
Recently, through the benevolence of a kind donor and Vajra Yogini Institute, a suitable property has become available in our area.
This is the Domaine En-Baut, located in Fiac in the Tarn area, which comprises a large farmhouse and numerous outbuildings, and extends over 6 hectares of green areas, orchards, meadows, woods of rare essences, including a small pond. Its previous use was agricultural and there was an operational bakery on the premises. Due to past fire damage, and the need to expand residential accommodations, a lot of renovation work has been done.
The property has the potential to accommodate 15 or more nuns.
Without monasteries, it is difficult for women to take ordination and remain ordained.
There is a critical need for monastic communities to provide a proper environment where nuns can live according to their vows, where they can practice together, where new nuns can be educated and where all can be taken care of.
The Sangha needs a place to live – it cannot just dwell somewhere in space. It needs to be organized and this organization is the monastery. The monastery is the place where the nuns can live in vows, sheltered from distractions. The monastery plays a crucial role in preserving the Dharma and it is at the monastery that visitors can see holy objects thanks to which they purify their minds, accumulate merit and gain realizations.
«Without proper monastic communities and discipline, it will be very difficult to preserve and spread the Dharma.»

Lama Zopa Rinpoche
There is suffering but we can become free of suffering because there is a valid path leading to freedom. Prince Siddhartha, after encountering what are known as the four sights: sickness, old age, death and a renunciate, was overwhelmed by sorrow and inspired to leave home, seeking freedom. This path is as relevant today as it was at the time of the Buddha, as it points to the essence of the human condition beyond time and culture.
The Buddha advocated the importance of giving up the householder life and stepping forth into monastic life, not as the only option for those seeking liberation, but as part of the four-fold Sangha: fully ordained monks, fully ordained nuns, male and female lay followers. This stable basis enables the teachings to remain a living tradition wherever it is established.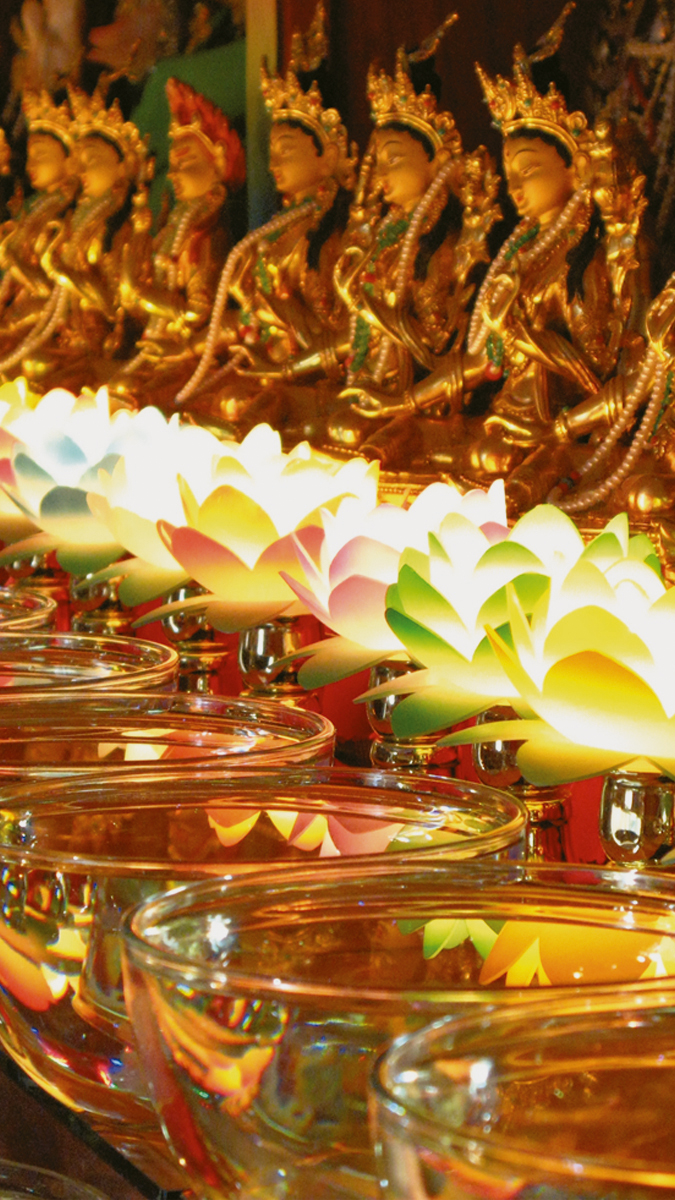 Developing the Monastery
The nuns need support and are very grateful for your help
To render the premises habitable for the nuns to move in and start the community, we had to undertake important building work. The development of the residential area reserved for nuns and the construction of the temple and adjoining library are completed.
The next important phase to be realized is the furnishing of the gompa, and specifically the altar. We want it to be as beautiful and inspiring as possible.
The altar is already in place, and painted, and we are planning a final phase of decoration. Lama Zopa Rinpoche would like classical Tibetan decoration for the Dorje Pamo altar, as suggested to a few local artists. The statues will also have to be choosen.
Your participation to rhis work is most welcome: